The Ring Master is an image I submitted to a contest and won. The final design was used in various advertising to promote an arts event.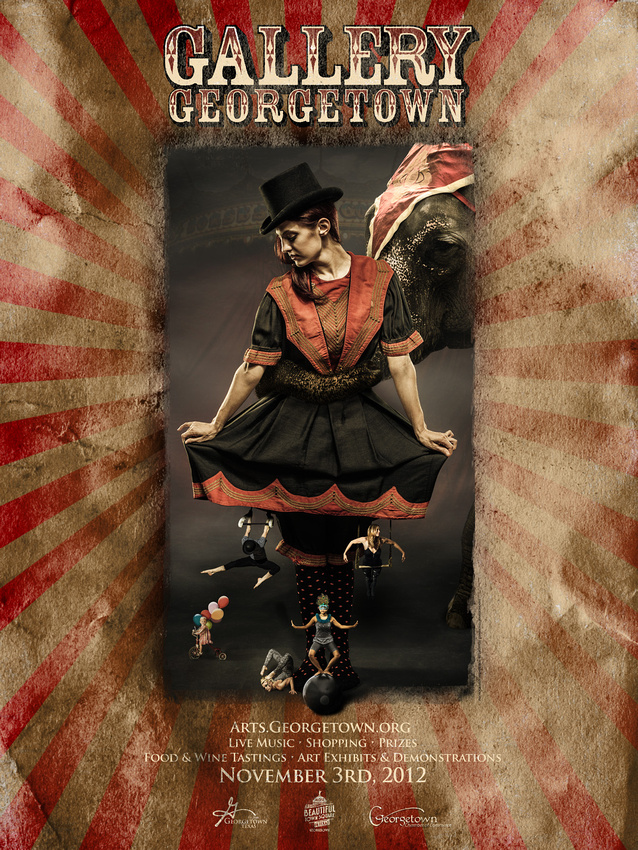 Earlier this year, Photoshop CS 6 Beta had been released and I was itching to try it out. Looking at my current theme of choice, it was easy to decide to continue with the circus theme for my sample project. The resulting image was used in a limited edition poster currently on sale to raise funds for the Arts and Culture Board in Georgetown, Texas.
I'd like to share with you the process of producing this image and then the final design.
First I wanted to find an anchoring image to work from. While collecting favorites within Lightroom, the image of Jennifer Lynn really struck me. She had pulled the "skirt" of this old costume out making it look like the top of a circus tent. The top hat she wore gave her a ring master feel. Her downward gaze gave me the idea to put something within her line-of-sight. Considering these various attributes, I decided to produce a mini circus under the tent of her skirt.
Isolating the elements from each of the photos to fit within the tent was easy with the new power of PS CS 6. I have never bragged as much about a software product as I have this one.
The Sky Candy shoot in April was one of my favorites in a long while. I knew this contortionist image would fit well and so the photo of Brynn was one of the first I had picked. Placing her so it didn't look awkward and yet still gave some overlap was a slight challenge. In some placements it looked like she was being kicked over.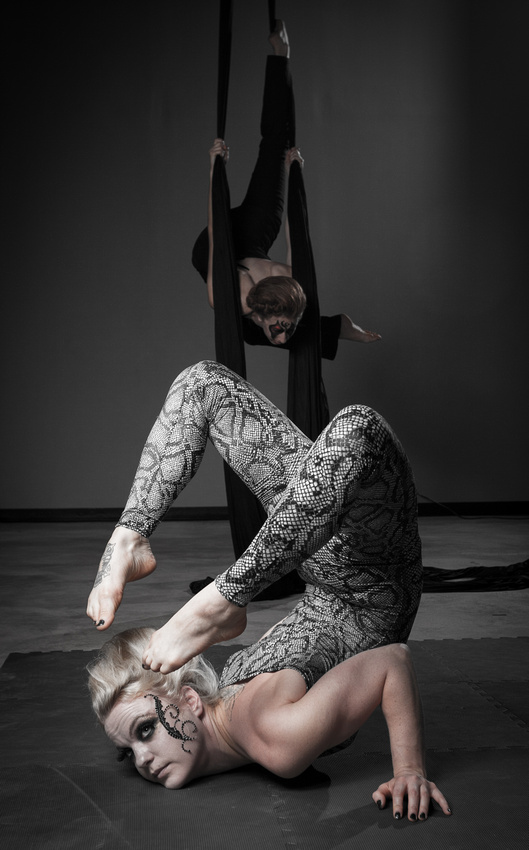 From that same day of photography at Sky Candy, I chose another image to fulfill the need for a hanging character. Jacob's photo had a nice clean feel to it with good lines in the pose he did.
Once these two had been placed into the montage, I knew I would need another hanging character to add visual balance. I had looked at various aerial silks photos and other aerial apparatuses, but the ones I liked most were with the trapeze. The photo of Tricia, shot in March 2011, was from a series I did with her impromptu during one of our Volve group meet-ups.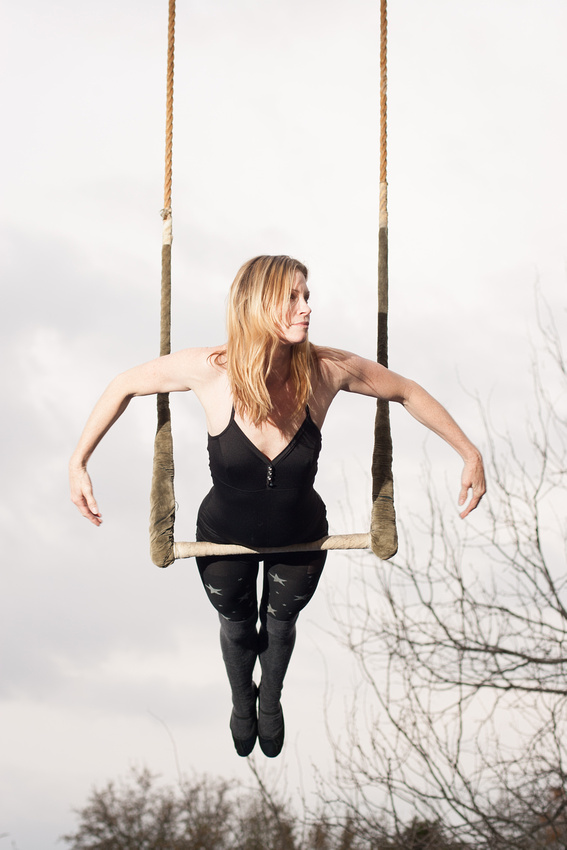 A similar image was used in the 2011 Georgetown Banner Art Project and is again a part of that collection this year.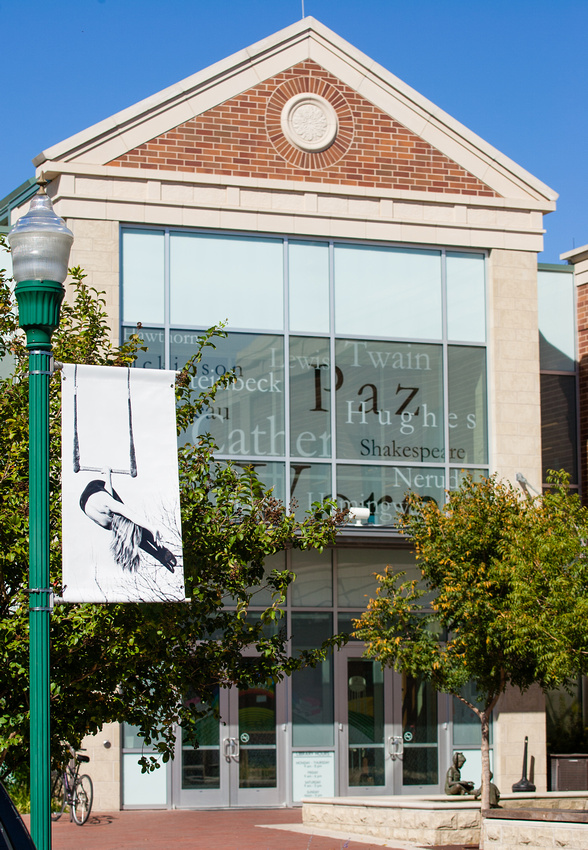 Using the three characters under the tent, I played with position and shadows and finally concluded they needed to be smaller. I had my requisite odd number of characters, but they didn't fill up the space very well.
So, from an iStock mini'lypse (a weekend group photo shoot) I helped organize, I pulled one of my images of a little girl on a tricycle with balloons. She has such a sweet expression and is looking in the right direction, that I was able to use her to lighten up the feel of the montage a little.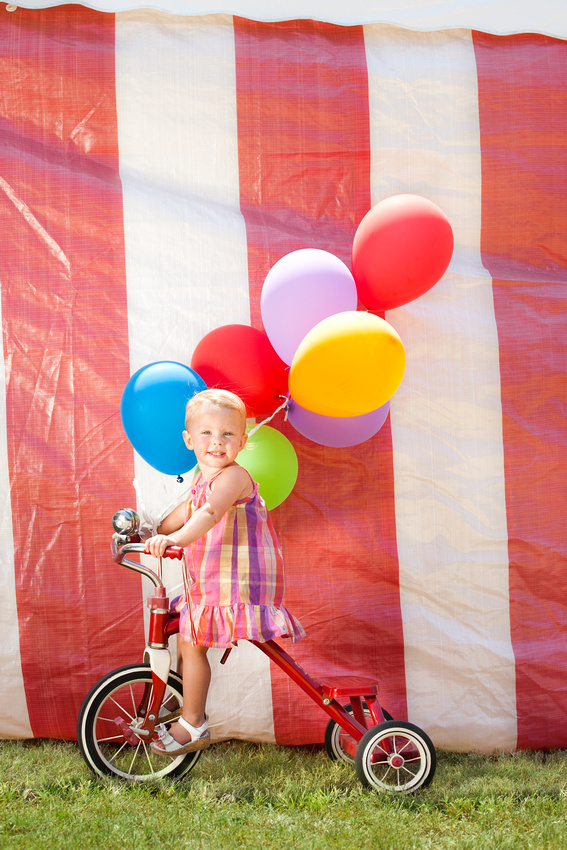 Now, there was still a need for one more character... someone to go in front of the ring master.
From the same mini'lypse came the final image of the miniature characters. This image of Marissa gave me a symmetrical piece to place in the middle of the image. I didn't realize how much of an anchoring image this would become later.
There was now some depth in the image, but not as much as I wanted. At this point, I don't remember if I brought in the elephant first or the background tent. At some point, though, I had remembered this image of an actual circus tent I photographed in London back in 2005. Using a simple Photoshop technique, I added a foggy overlay to separate the tent from the foreground features. It was meant to just give a slight reference without detracting from the image.
As it turned out, the images I had taken didn't produce a single image that would fill my background, so I used two different ones.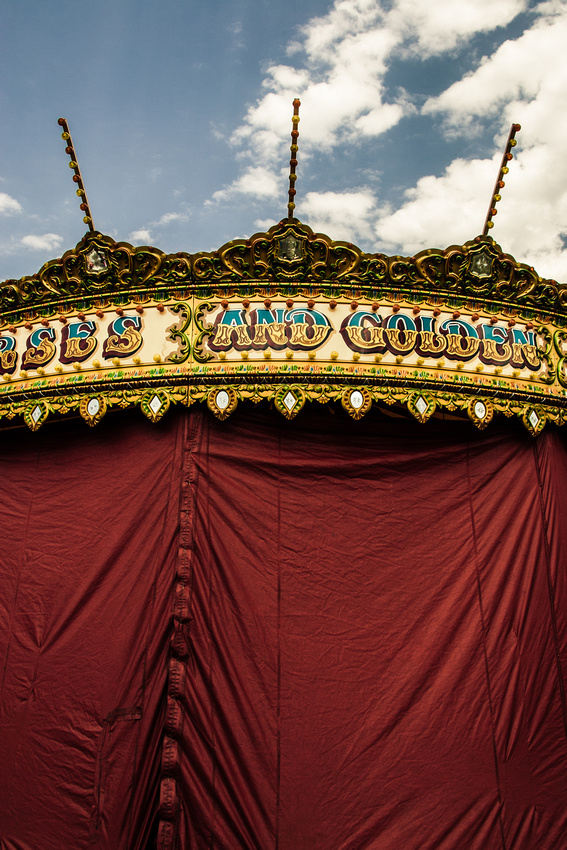 Now the elephant... this character was a great addition, probably my favorite, and one that took the longest to integrate. Yet it has been overlooked my so many viewers. While on a mission trip to Thailand with my church, we visited a tourist attraction with elephant rides. I had photographed the elephant my wife was riding. The image, taken with a Canon 7D, was plenty big. This meant I had pixels to spare when enlarging just the section I needed. This animal was dressed in red and gold, matching the circus theme I had already established.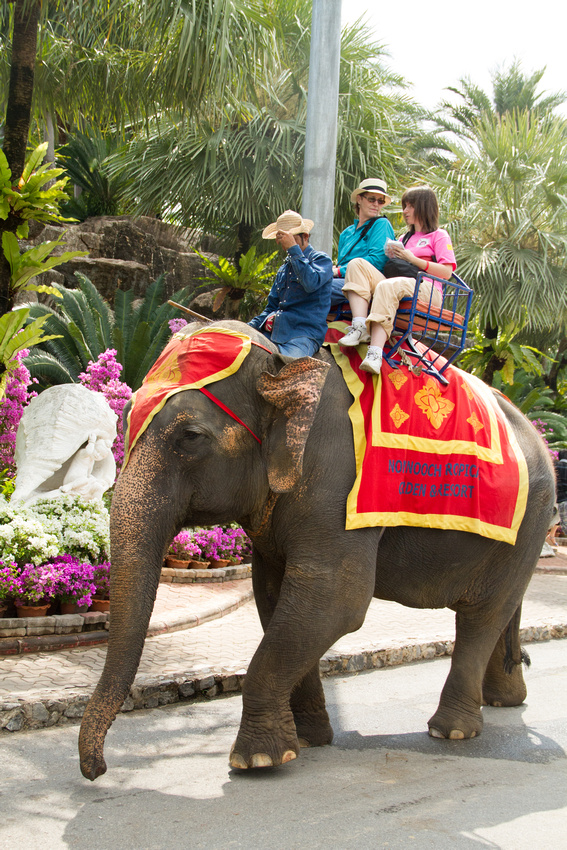 I cropped him into the photo and isolated him from the background. So much of the elephant's trunk was hidden behind the ring master that it was not easy to make out what he was. This is when I decided to integrate the elephant much more by wrapping his trunk around the young lady's waist. For this, I got to play with another Photoshop feature called the puppet warp. I removed the trunk and then went to work manipulating it until it felt like a real part of the image.
After all this, it was time to add shadows, remove unwanted creases and get the color and contrast to match throughout. This is not a small task, yet a necessary one to make the pieces feel like part of a whole.
The image was complete and ready for submitting to a competition that emerged while I was working on this. Part of the submission guidelines called for an image that interpreted what the artist thought the Gallery Georgetown event would be. A rather vague request.
My response: a circus.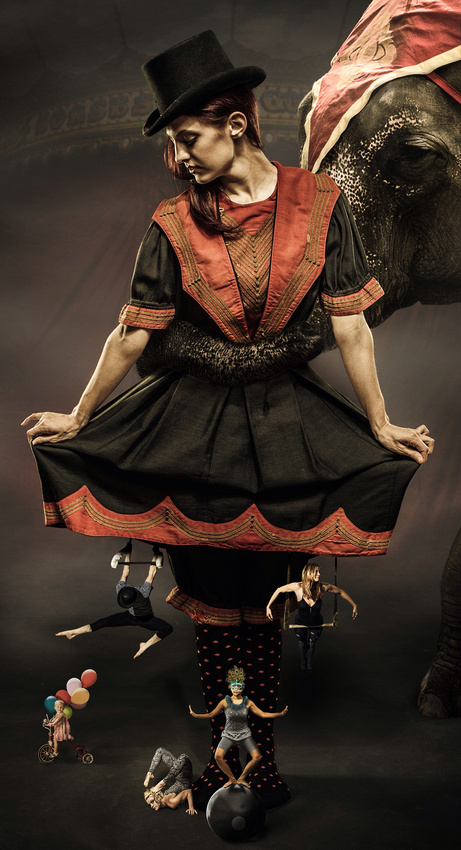 With tongue in cheek, I submitted the image, not sure it was going to fit their theme.
To my delight, it was accepted as the winner. After conversations about designing the advertisements, I took on the task. While I did the magazine ads and ad posters on my own, I knew the limited edition poster was not up to snuff.
So, I consulted not less than three of the best designers I know and trust. From their feedback the final design was formed.
One hundred copies of the limited edition print were made. I signed and numbered them all. This past Saturday was the actual event in which several galleries were open to share their collections and samples of food from local restaurants and wineries.
There are still some posters left for purchase. Contact the Georgetown Visitor's Center if you are interested in buying one for yourself or a friend.