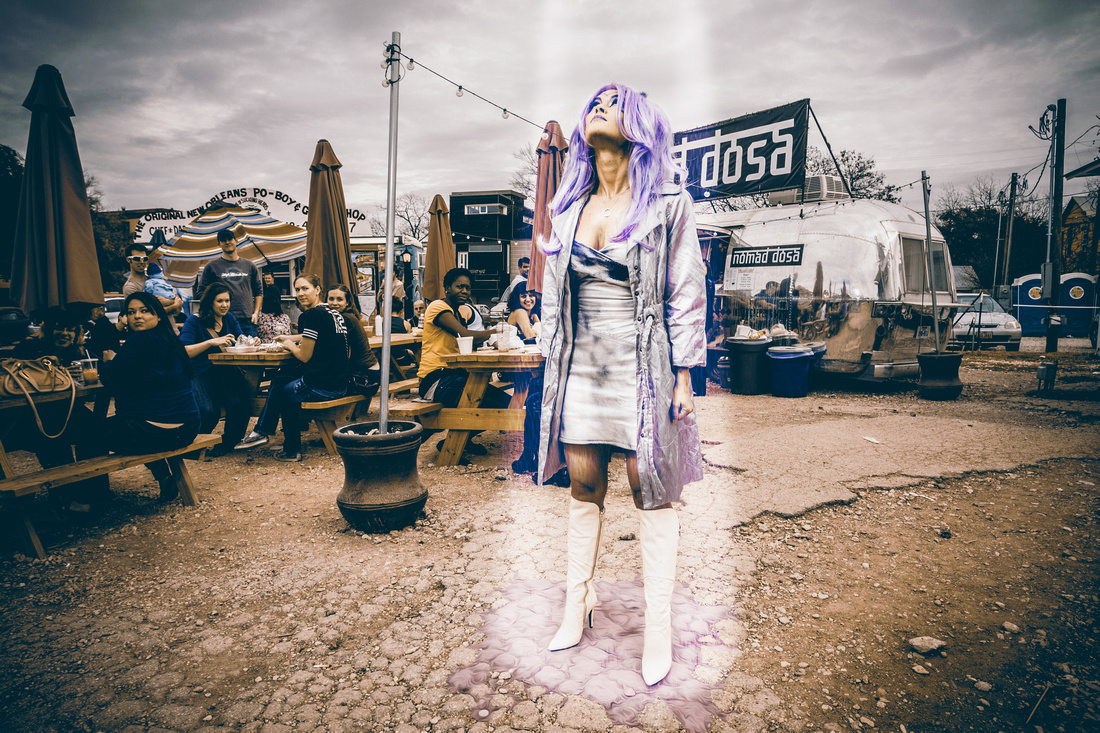 WARNING: Creatives at play.

I have to admit, I love to have play dates with my friends. This is one of those times.
Our friend, Elle LaMont, a lady of many talents, had a big gap in her schedule and asked if we could "play" together. I'm paraphrasing here.
It has been a while since she has modeled for me. Martina and I always love working with Elle, so we were excited to find a day that worked for us all.
As soon as our mutual friend Kristie Whites heard about it, she was ready to jump on board. Another very talented lady who made sure we had the right costume and extra set of creative eyes to oversee the details.

I presented a short list of ideas. The one that was both easy and a little more wild was this one.

Retro Alien in Austin: a 1960's inspired look of an alien in human form.
The first images that came to mind were of Elizabeth Hurley's Vanessa Kensington character in Austin Powers. I'm sure you can picture it, the one that Dr. Evil had her put on once she and Austin Powers were captured.

The idea was pretty simple. Go to a highly populated public space, make a quick appearance, shout out, get reactions from the public and capture it on camera. The result was to look as though she had surprised the unsuspecting public with her appearance from outer space - beamed down, as it were.
Well, this is Austin. They are used to keeping it weird. Weird, is never weird enough here. So, we mostly got looks of mild interest, disgust or amused smiles. Not quite the shock and awe I was imagining, but it worked.

The locations we hit were the food trailers on South Congress Avenue and around the flagship Whole Foods Market on Lamar and 6th Street. You can see the food court in one shot. In another shot is 6th Street just beside Whole Foods where she stands in traffic.

Mitch Bergsma, another creative friend of ours, was able to join us and capture the shoot on video. He edited the footage and put together the video you see below. Be sure to let him know if you appreciate his work over on YouTube. I know we appreciated it!

For the photo geeks, this was shot on my Canon 1D Mk II (an oldie, but a goodie) with a Canon 17-40 f/4 L lens. I used a Canon 580EX speedlight mounted to a boom arm that Martina hand-held. It was synced with radio slaves and I used a 24" soft box for some shots and bare on others. The images are processed in both Lightroom 4 and Photoshop CS6.

You can see more of the final and behind-the-scenes photos here.